Today marked the first day of the BBC Good Food Show which was officially opened by Paul Hollywood & Mary Berry at 10am. I turned up bright and early at 9:30am, a tad eager but I had a long day ahead of me hunting out the best stalls, buying a little too much & sampling lots of delicious delicacies. Oh it's a tough job.
My day started with watching Paul & Mary cut the official ribbon and crowds of eager shoppers waiting in anticipation to be the first into the hall. After the opening, we went over to the Kenwood Super theatre for the official Press photo call with Paul & Mary where we managed to get a few snaps of the baking duo before their busy day ahead in the Super theatre. I was a little star struck seeing them up close for the first time, Mary looked lovely, you just instantly warm to her & want her to be your adopted Granny!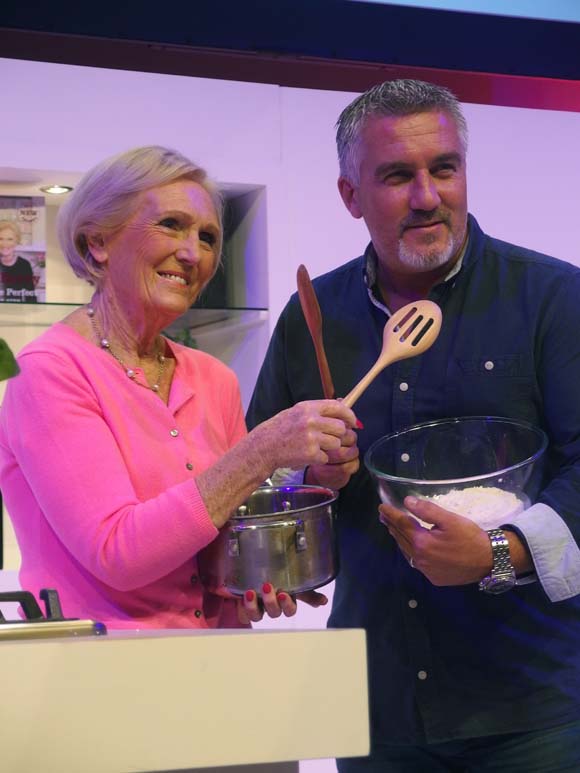 After a quick little wander, it was time to head into the Super theatre to watch the baking duo hard at work. Mary was making a Chicken Pie with Wilted Spinach which was quick & simple to make but most importantly, looked great. Next up was a Lemon Posset which Mary was making as Paul was whipping up some Pistachio Shortbread. My eyes instantly lit up when I heard the word pistachio. It was like he knew I was there, well… that's what I'd like to admit. I have to say, the chemistry between them is strong. They are a great team and work together extremely well. Mary gives as good as she gets!
As the show finished, I met up with Ross and we devised a "full proof" system of going up and down every aisle in a mission to check out every single stall. Sadly, we both get easily distracted and ventured off course several times that I still don't know if we managed to visit each individual stall. My bank card will more than likely confirm that we did. I felt like a rabbit in the headlights at times but eventually found my Food Show groove and managed to root out my favourite stalls of the show.
Late afternoon, in between buying too many things, the BBC Good Food Show Bloggers were whisked backstage to meet none other than Paul Hollywood for a quick Meet & Greet before he was next due on stage. Mary Berry was in the lounge too having a little sit down so we didn't want to bother her for a photograph. He was lovely and I can also confirm that Paul's eyes are just as blue up close.
After meeting Paul Hollywood, it was back to shopping I went. Below, I've highlighted some of my favourites that, in my opinion, you must go check out. If you do, let me know what you think of them and report back on your purchases.
Ramsay of Carluke
I love everything about this company. I first met Andrew Ramsay at last years show when they were Bursary Award winners. Andrew sat with a small group of the BBC Good Food Show Bloggers and discussed the history behind the company. They are a family butchers for over 150 years and they produce some of the best bacon & black pudding I have ever tasted. If you've never tried it, you are missing out. They are a must see stall if you love Traditional Ayrshire Bacon, Black Pudding & Sausages. It also helps that they are a friendly bunch too! If you time it right, you might even get to sample some of the food before it gets snapped up by the hungry crowd.
Scotia Spice
Ever felt completely overwhelmed while cooking with spices? Scotia Spice help you learn the art of authentic Punjabi cooking. A recent Bursary Award winner, they have created a little box called 'Your guide to true Punjabi cooking' complete with spices, ingredients, recipes from the Scotia Spice Cookery School and techniques to implement when you cook your next curry from scratch for £20. On their stall, you also get the chance to sample three chutneys, the Tomato & Cumin being my absolute favourite. Another must see stall, unfortunately I didn't have any spare arms to carry one of the boxes away with me today but it is on my must-buy list.
Beaujolais Wines
You cannot go wrong with wine tasting, can you? Well… sadly if you are driving to the show like myself, you have to limit your intake to a couple of sips instead of the entire bottle like I wanted to. The girls in this stall are lovely and helpful if you are clueless about what type of wine you like. We chatted to one of the girls for a good 20 minutes on red wine and the Beaujolais region of France. I'm normally a Malbec or Rioja kind of girl but I fell in love with a £7.99 bottle of Beaujolais Village which is on the completely different side of the drinking scale. My ultimate favourite was the Château des Jacques Moulin-à -Vent 2010 Louis Jadot which is a medium bodied red wine and perfect with red meat, slightly more expensive at £16 a bottle but worth it for the quality. Perfect for Christmas presents if I do say so myself!
Billington's of Lenzie
You cannot go to the BBC Good Food Show without checking out Glasgow's Best Deli (2 years running!). The stall this year is once again stocked to the brim full of artisan produce, delicious breads, alcohol and tastings. I've spoken so much about these guys in the past few months so instead of rabbiting on even more, just go see the guys and give them a huge congratulations.
Coffee & Juice Shack
Everyone loves a good cup of coffee, right? Well, these guys are a welcome addition to the show this year. The stall is designed like a beach side shack catering for coffee and juice lovers. The espresso that we tried comes from Guatemalan beans which are supplied by James Gourmet. The guys are very passionate about coffee and are looking to set up their coffee shop in the near future down in Herefordshire. They also have an old school lemonade stand selling fresh lemonade for £3.50, I was so thirsty that I ended up drinking mine in less than a minute, it was light, refreshing and slightly sweet. A great thirst quencher.
Heck!
Ah Sausages. You can never have too many, right? I had never heard of Heck! before today but it's a name that I will never forget now. After sampling their range of sausages, then going back for more, I instantly bought four boxes of sausages that I will probably end up eating for the next week or two. My favourite? The 97% Pork or the Chorizo. If you are looking to buy good quality sausages, these are the guys to buy them from.
Scottish Fruit Trees
This was by far the most interesting stall to me, I really want to do them justice by having an entire blog post based on them because I love the work that they are doing. I'm also first to admit that I cannot stand Apple Juice, I've now discovered that its actually the Supermarket variety that I detest. The guys freshly squeezed apples right in front of us and served it to us. Delicious.  Look out for a blog post on them very soon. Don't forget to drop passed them to pick up some Apple Juice without all those nasty additives.
The Brownie Bar
Chocolate Brownies. Enough said? No? Well, not only do they create delicious rich chocolate brownies, they have white chocolate & pistachio. Need I say more? I bought four brownies and now only one is left. They taste delicious, are gooey in the middle and come in a variety of different flavours. If you have a sweet tooth and love a good brownie, you need to hunt them out.
 The Dog House Bakery (Madison's Bakery for Dogs)
Finally, a stall fit for my furry companion Bobby (aka Doggy Dog). Dog lovers need to come check out this stall to grab some delectable treats for dogs such as Sweet Potato Biscotti, Peanut Butter Hearts and Tuna Fish Treats. I honestly couldn't decide what to get for Bobby so I ended up getting a Variety Box of 6 different treats so that Bobby himself can tell me what he likes as he's rather picky in his old age. He's quite partial to smoked salmon and fillet steak though! The bakery are also based at Partick Farmers Market so if you miss them at the show, you can go along with your dog to the market one day and let your dog decide which treat they want.
Are you going to the show this year? Have you already been? What were your favourite stalls? What did you buy?