I love a good cocktail. My favourites? French Martini and Mojito. Both are refreshingly light and when I'm in the mood for a drink, they are my ideal choice. When Waitrose Cellar contacted me to create my own Summer Cocktail using a Waitrose branded spirit, I challenged myself to try something different. While clinging to the hope that Summer may extend itself this year, I  challenged myself even more, I decided to make three different cocktails for different palettes. I incorporated fruit that I love into each cocktail as well as Polish Rye Vodka and the end result was great! I thought that the Rye Vodka would be a great spirit to use as it has a citrus flavour to it as well as being smooth.
Below are my three recipes and they should be quick & easy to make! Each recipe makes 1 cocktail (depending on your glass), so double up if you're making more. Sharing is caring!
Grapefruit Fizz
75ml Fresh Pink Grapefruit Juice
50ml Pink Grapefruit Lemonade
50ml Polish Rye Vodka
Sugar for the rim of your cocktail glass (I coloured mine with some Pink Food Colouring)
Pop all of the liquid into your cocktail shaker with a handful of crushed ice. Shake well. Dip your cocktail glass into the coloured sugar to coat. Strain the cocktail into the glass & enjoy!
Pomegranate Pamplemousse
50ml Polish Rye Vodka
100ml Pomegranate Juice
25ml Fresh Pink Grapefruit Juice
Pop all of the liquid into your cocktail shaker with a handful of crushed ice. Shake well. Strain the cocktail into the glass, garnish with a slice of pink grapefruit & enjoy!
 Peach Passion
1 Peach, cored and de-skinned
50ml Polish Rye Vodka
Small Handful of Raspberries
Small Handful of chopped Strawberries
Handful of Crushed Ice
Lemonade
Pop the peach into a food processor or blender and blend until it has reached a purée consistency. Add the purée to your cocktail shaker along with vodka, strawberries and raspberries. Shake well. Add ice to your glass and then pour mix into the glass, topping up with some lemonade.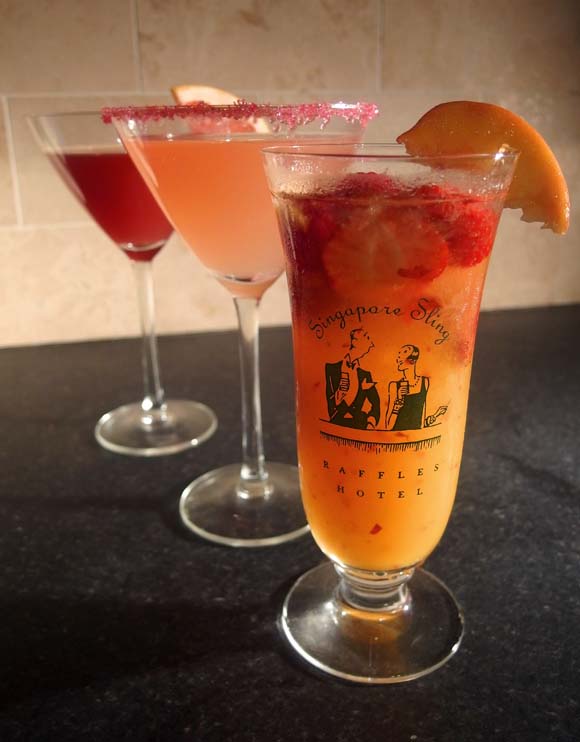 What is your favourite cocktail? Do you make cocktails at home? If you're looking for some new inspiration, Waitrose Cellar have an online recipe page to help you create your perfect cocktail.