Last year, I went to Christopher's first wine tasting event at The Butchershop Bar & Grill. It was a fun filled night, very relaxed, wine paired with food and I left rather tipsy but with the added knowledge of finding a new favourite type of wine; Argentinean Malbec.
Christopher is planning on making these wine tasting events more regular alongside Gary McKernan and it kicked off with a low key tasting at Kelvingrove Cafe where we would we tasting three different wines by Charles Smith. To accompany each wine, small canapés were created to perfectly match each wine. Tickets cost £20 per person which is a bargain for this type of event if you ask me.
Charles Smith isn't your average winemaker, as Gary told us. Charles, a California native,  previously managed a rock bands throughout Europe after heading to Denmark for a "hot piece of ass". He later moved back to the States and with his new found passion for wine, opened a wine shop. While on a road trip, he passed through the small town of Walla Walla in Washington State and met a young Frenchman winemaker. The two of them  had the same passion for great Syrah wine and Charles eventually moved to Walla Walla to start making his own wine. The rest is history.
From his collection, we tried Kung Fu Girl Riesling, The Velvet Devil Merlot and Boom Boom! Syrah.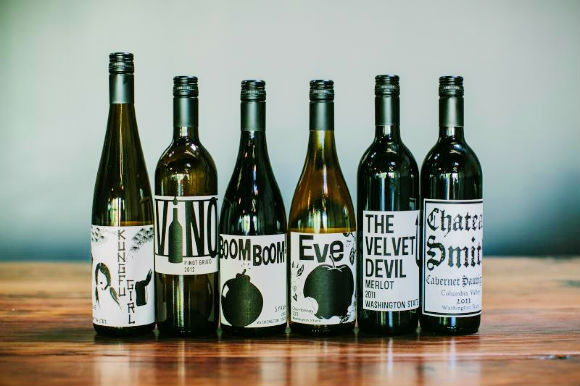 I had never heard of Riesling before as I do not generally drink white wine. Seemingly, the Riesling had a bad name for many years but is starting to become popular again. The flavour notes in Kung Fu Girl are Fuji apple, shiro plum and lime leaves. It was a very light, crispy refreshing wine. Very easy drinking and perfectly paired with Asian dishes or grilled seafood.
Next up was The Velvet Devil. The flavours we were to expect were dark cherries, cedar, pipe tobacco, anise, stone and cherry blossoms. We were also told that this is a perfect wine to have with Lamb and Roast Duck. The wine felt very full bodied to me and spicy. I wasn't a huge fan of the intense aftertaste. Sadly not a favourite of mine.
Lastly, we tried Boom Boom! As the name suggests, it was a hit. Flavour notes were fresh herbs, rich black cherry, tobacco as well as hints of lavender. The wine is a perfect match for red meat such as Lamb and Beef. This was by far one of the best red wines I've had in a while and my first ever Syrah. It is an extremely easy drinking every day kind of wine. Very smooth, flavoursome and leaves a lovely aftertaste. Judging by the comments of the others, this was also a huge favourite.
I love informal wine tasting events such as this. They introduce you to ranges of wine that you would never normally drink. I also think that you can learn a lot more about the wine you are drinking.
Do you like wine? Have you been wine tasting before? What if your favourite wine?
Photo Credit: Charles Smith Wines