Last week I popped along to Silverburn to go on a food crawl. Yes. A food crawl. I love food crawls, they allow you to check out several different restaurants in a short space of time, sampling the best of what they have to offer.
The food crawl was all part of Silverburn's SummerDine event that is taking place until July 31st 2014. So what is SummerDiner? It is a month long event to celebrate all that is good to eat and sees tastings take place, freebies, prizes and discounts from many of the food outlets within Silverburn. Everyone likes a discount, don't they?
We started off our food crawl with a "few" tapas in La Tasca. I've only ever eaten in La Tasca a handful of times, the last time being several years ago. It isn't a place that I would normally frequent so it was good to get "reacquainted" with the place and sample some of the newer editions to the menu. We tried Tabla Española (cured meats, mixed olives, Manchego cheese & bread), Gambas Al Ajillo (king prawns which were sautéed in a chilli & garlic oil), Pescado Blanco Frito (deep fried white fish in San Miguel batter), Chorizo & Morcilla (sautéed chorizo with black pudding, peppers and onions), Pollo Marbella (chicken breast cooked with chorizo, white wine & cream) and Patatas Negras (fried potato topped with rich black beans). Between the six of us sharing, I managed to have a sample of them all. They were delicious and I would probably order most of these again. I'm not the biggest chorizo fan so I may give that dish a miss. It's just too hard and chewy for my liking. I paired my little tapas selection with a glass of Rioja. My favourite type of red wine.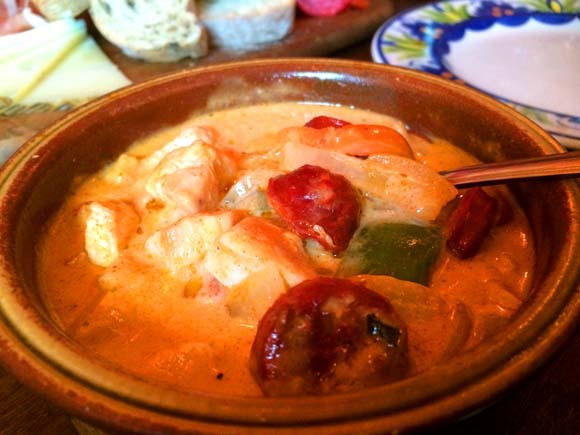 We then walked along to Handmade Burger Company for our main course which was a selection of Chicken and Beef Sliders. A stark difference to what we had for "starters". I decided to try the beef smokey barbecue and the sweet chilli chicken sliders. Both were very nice but if I'm honest, I preferred the chicken slider. The sliders were paired with onion rings, cajun chips, peri peri chips and some dips. The garlic mayo dip was a personal favourite of mine, ideal for dipping chips into if I do say so myself! I was rather full so didn't eat many of the sides.
Lastly, it was time to walk back to the other side of Silverburn to Yo Sushi. Yo Sushi isn't the type of place that you'd generally associate with dessert but it houses one of my favourites, Custard Dorayaki (Japanese pancakes with custard filling and a raspberry sauce). Soft and fluffy pancakes with a thick creamy custard and a rather sour raspberry sauce. The sauce isn't the greatest for my taste buds as it is rather sour but a few little dips doesn't hurt.
I was fit to burst by this point. Overall, it was a fun experience and one I'd like to do again. SummerDine is a great idea as money can be tight for many families so having a month full of discounts is beneficial not only for them but everyone.
A list of food outlets taking part are:
Auntie Anne's – 75p off any pretzel (including dogs)
Bumblebee Bakehouse – 20% off cupcakes only
Chocolati – 10% off when you spend over £10
Frankie & Benny's – 20% off Mon-Fri
Fuel Juice Bar – 10% off any size drink
Giraffe – 30% off Sun-Thurs
Handmade burger Co. – 20% off total bill
Joe Delucci's – 20% off excluding triple scoops and litre tubs
La Tasca – 30% off the Tapas to Share section of menu
Nando's – Free Quarter Chicken when buying two sides and a drink between 2-5pm, Mon – Thurs
Debenhams Restaurant – Half price frappe or free regular tea or coffee
Starbucks – 25p off any hot drink
Thorntons – Save £1 on a double scoop cone/cup
YO! Sushi – 20% off Sit-in only
To obtain your discounts, click on this link to download your voucher or pick up a voucher booklet from the customer service desk.
Happy eating!