If you didn't know the exact location of  the Stockbridge Restaurant was located on St Stephen Street in Edinburgh, you'd more than likely walk past it and continue down the road, double back on yourself and then finally notice the fairy lights guiding you down rather steep steps to the entrance. Blink and you'll miss it.
Ross & I were welcomed by a rather friendly maître'd who instructed us to pick whichever table we wanted. The restaurant was rather quiet at 7:30 and were able to pick a quiet table in the corner so I could watch other diners and take photographs without bothering anyone. 
When looking at the menus, we decided to go dishes from the À la carte menu instead of the set menu unlike the other diners. Trouble was, there were several things that I wanted and found it hard to finally settle of what I wanted. I'm rather indecisive when it comes to food at times.
While waiting for our starters, we were served the amuse–bouche of the day which was a salad of vine tomato, mozzarella, parma ham and balsamic. Small, simple and delicious. 
To start, I ordered the Seared Scallops with cherry tomatoes, tapenade, aubergine and tomato vinaigrette. The scallops were cooked perfectly and when married with the tomatoes, tapenade and aubergines, it was a perfect introduction to the Stockbridge Restaurant. The flavour combinations were very well executed and would have gladly eaten more.
Ross ordered the Goats cheese fondant with beetroot salsa, caramelised walnuts and toasted brioche. The goats cheese was rich and creamy, however, the plate was overloaded with beetroot salsa and distracted you from the Goats cheese which was meant to be the main attraction. The beetroot salsa was enjoyable but you just got bored with it after a few mouthfuls.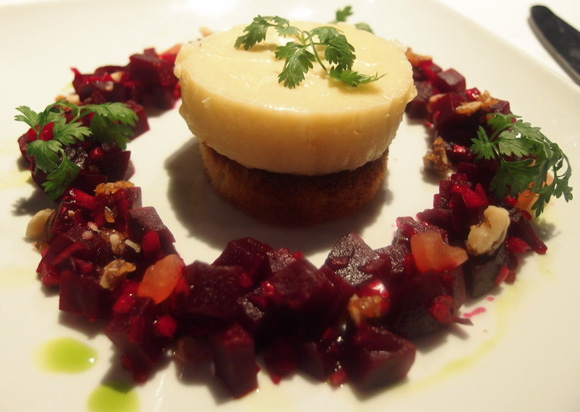 A short interlude, our mains had arrived. Ross had ordered the Venison loin with venison pie, braised red cabbage, parsnip puree and a port wine sauce. The Venison was cooked beautifully, it melted in your mouth and the port wine sauce ensured that each mouthful was succulent. The main star of the plate though was the Venison pie with parsnip crisps. A mini shepherd-esq pie which was rich in flavour and very very delectable.
For my main, I ordered Roasted rack of Hugh Grierson organic lamb and braised flank with tapenade creamed potato, polenta, feta and vegetable terrine and rosemary sauce. Once again, the meat was cooked beautifully, however, there was just a little too much fat for my liking. Not a huge deal in the grand scheme of things though. The tapenade creamed potatoes were an ample amount and very tasty. I love olives so I loved the idea of incorporating it within mashed potatoes in this way. It worked very well. Sadly, that's all that worked for me. The Polenta, Feta and Vegetable terrine was very disappointing. It just didn't work. The flavour combinations were strange and after one bite, I pushed it aside. It's a shame really because it looked beautiful.
To cleanse our palates before dessert, we were served the most mouth-watering passion fruit sorbet which the head chef hand makes himself. Beautifully smooth, sweet and tangy, it was the best sorbet I have ever tasted. Delicious.
I read rave reviews of the Banana tart tatin which the restaurant serves along with butterscotch sauce and vanilla ice cream so ordered that for my dessert while Ross ordered the Vanilla rice pudding with apple compote, shortbread crumble and cinnamon ice cream.
When I was served the tart tatin, I was slightly confused to find big chunks of banana vertically arranged on a small piece of pastry. Only the ends of the banana ended up properly caramelised and the rest was rather mushy. The butterscotch sauce was incredible and the vanilla ice cream was a welcome addition. Sadly, the tart tatin was a miss for me. If the bananas were sliced and arranged in the traditional way ensuring they were caramelised then the dessert would have been outstanding. It's just a shame the size of the bananas let it down for me.
Ross' Vanilla rice pudding with apple compote was a high-end version of Ambrosia. Creamy and comforting. The cinnamon ice cream like the sorbet, was of very high quality and delicious. Jason should really think of selling his sorbet's and ice creams outside of his restaurant. They were THAT good.
Overall, it was a mainly positive dining experience, it's a shame that certain elements of the dishes didn't work for my personal tastes. The Stockbridge is a beautifully designed restaurant, the staff are friendly, attentive and welcoming, it's no wonder that while dining, we noticed several regulars returning and chatting like old friends. I loved that the clientele ranged from pensioners to couples in their early 20's so you never felt out of place like you do in some restaurants in the city.
Disclaimer: I was invited by The Stockbridge Restaurant as guests in return for a review. Whilst our meal was complimentary, I was under no obligation to write a positive review and my comments reflect my true experience on that evening.
Rating
Food -

7/10

Service -

8/10

Value -

7/10