Friday 21st February saw the last Glasgow date of Beyonce's Mrs Carter 2014 tour. She choose Glasgow to kick off her tour and it was worth waiting all these months for. If I could sum Queen B up in one word, it would be FLAWLESS!
Monsieur Adi, the support act, came on stage just after 8pm to pump the crowd up with his DJ skills. I have to admit, I had never heard of Adi before (even when I was in Paris) but I loved his remixes of songs such as Dark Horse and N**gas in Paris. They were that good, I really want to get my hands on them for rocking away in my car! The crowd were dancing away but sadly, I couldn't stay to watch the end of his set as it got so warm where we were standing and I needed water as well as some fresh air.
It's a good thing I did go get some air, because I was chosen along with Ross to be upgraded to the VIP Beehive area courtesy of Beyonce's #BeyGood Charity collab with The Princes Trust after being spotted with my #BeyGood sticker. This meant that instead of being in amongst the main crowd and being squashed…. we stood right next to the stage left, in front of thousands of people and watched the entire show up close and personal. Best view EVER!
Singing some of her greatest hits such as Baby Boy, Crazy In Love, Naughty Girl and Single Ladies you couldn't take your eyes off of her. It was also the first time (well 2nd if you count the first show the night before), that she sang songs from her new album such as ***Flawless, XO, Â Partition and Drunk In Love.
After a few songs were sung, it was time for her first change of outfit, ever the pro her team is, her dancers kept the crowd entertained for a few minutes and then it was all systems go again. I loved all her outfits but my favourites had to be the green mini dress and the sequinned ball gown she wore. Beautiful.
Things got better and better when she came to the side of the stage where we were standing and sang right in front of us, not even a metre away and…. shook my hand. Squeal. I was in total fan girl mode, even more so than when I met Boyz II Men and had a little chat with them at The O2 Academy.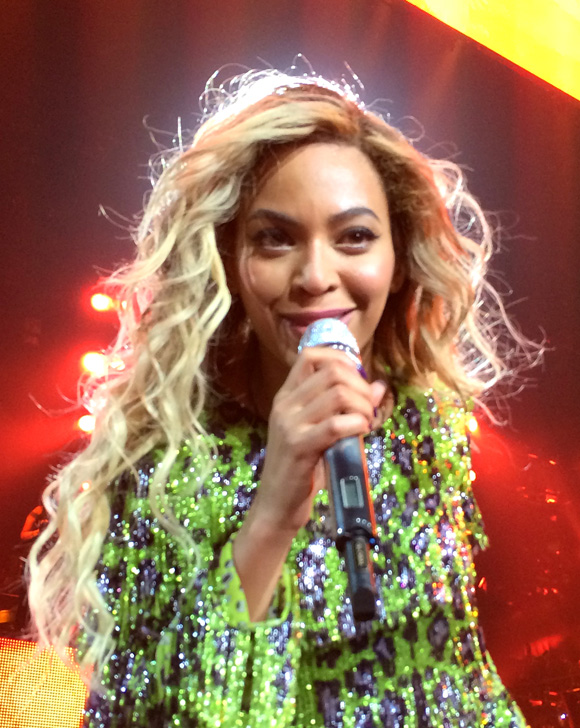 She also has hilarious facial expressions while singing….. oh and that's my hand!
I took some short video clips of the concert so I could relive it over & over again….
I was in total awe throughout the entire show and if you've never seen Beyonce in concert, it is one concert you cannot miss. Tickets may be a little pricey but to me, she's worth every single penny!