Before Burger Meats Bun opened its doors on West Regent Street, it was talk of the town. For weeks people were counting down until they opened (myself included) dying to try the latest burger restaurant in Glasgow. The Burger Scene in Glasgow is pretty crazy at the moment so is there room for a new kid on the block? Oh yes.
Why all the hype? To me it is their background and passion. BMB is the baby of friends Ben Dantzic and James Forrest, who met while working at the Michelin-starred Peat Inn in Fife, Scotland. Ben, later became manager at Restaurant Andrew Fairlie in Gleneagles Hotel and decided to team up with James to fulfil their dream.
Their ethos? Ben told STV News that "Burger Meats Bun fuses high quality produce and mouthwatering recipes with a cool interior and atmosphere to offer a brilliant yet accessible culinary experience and we're really excited to be bringing this new concept to Glasgow."
Part owner and chef James Forrest added: "From our experience working in the fine dining sector with some of the best chefs in the UK, we noticed a real gap in the market for a casual concept, using first-class ingredients and making everything from scratch, and Burger Meats Bun does just that."
So there I was, bang on midday entering the wonderful world of BMBÂ and shown to our table of 10. No pressure for the guys then huh? Throw them right into the deep end!
The menu is simplistic, which I think is the best way to go as you focus on the quality of the food on offer. Burgers include three beef, two chicken and one vegetarian. Â Sides are three types of wings, fries come in three varieties and three different salads for the health conscious. To top things off, two desserts are on offer if you can manage them. Once they are up and running, specials will be added to the menu and I can't wait to see what they create.
I decided to order the Fiery Burger and then share sides of Thai Chilli Cheese Fries and Seoul Chicken Wings with Sharon. After a short wait (we were a big table after all!) our eyes lit up when a tray of neatly wrapped burgers arrived at our table & were handed out alongside a huge roll of kitchen towel for our hands. Sides were soon to follow before we all dug in.
Our table fell silent, huge smiles on faces and then sounds of Mmmmm……
The Fiery Burger was cooked to perfection and was one of the juiciest burgers I have ever tasted. The combination of flavours from the toma raschiera cheese, jalapeños, chipotle mayo and the beef was like a joyful explosion in your mouth. Unbelievable! The burger is garnished with lettuce, tomato and home made pickles which are made in house from a revised recipe from Ben's grandmother. The pickles were that good that Ryan asked for a side dish of them for us to snack on. Proper pickles made from Cucumber. Oh yes!
The bun? Well no floury bap or seeded nonsense in sight you'll be glad to hear. Instead the burgers all come in a high quality brioche bun. Chatting with Ben after we all ate, he was telling the table how they tried numerous types of bun but brioche turned out the best and from that they then taste tested various brioche recipes until they hit the perfect recipe they were looking for. A soft, springy brioche bun that holds your burger & doesn't fall apart while you're eating. Wonderful.
The Seoul Wings were full of flavour, fell off the bone & spicy. They weren't as spicy as I thought they were going to be but certainly had a good kick to them. BMBÂ have 3 different types of wings; Buffalo, Seoul & Chinese. I would definitely order these again but probably opt for Buffalo just to change things up a little! Ben also did say the Buffalo were the hottest and I do like spicy food!
While reading the menu, Thai Chilli Cheese Fries jumped out at me. For some reason, I actually thought the fries were going to come with actual Chilli and not Hot Sauce. So that was a slight letdown but after the first bite all was forgiven. The homemade fries (yes, you can tell the difference!) were smothered in cheese, sriracha hot sauce & garnishes. Even though they weren't what I expected, they were lovely. Definitely ordering these again.
I was almost going to explode as I was so full but I had to save a little space for dessert. It's an unwritten rule I like to bestow upon myself most of the time. The waitress described both desserts to us and I couldn't choose between Burger & Shake or Donuts & Sauce so why choose when you can have both (to share of course, I'm not THAT greedy!)
The donuts were a perfect size and served with a sauce. I could only eat a couple as they were so filling but from what I did try, they were soft, sugary and the sauce complimented them. I think the donuts could be improved on by having them filled with raspberry coulis, chocolate or custard so they aren't as doughty. Don't get me wrong, they were good but it's just a personal preference of mine.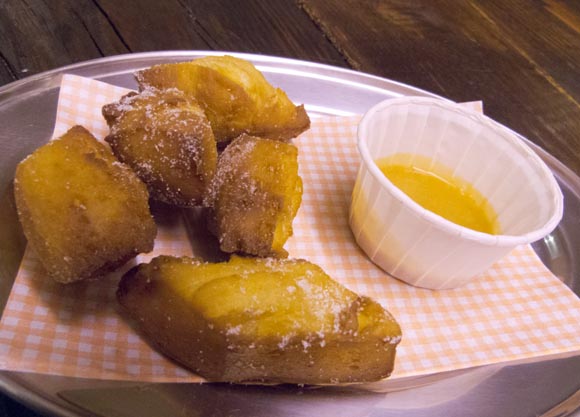 The Burger & Shake isn't what you expect it to be and that is what I love about BMB. Served with a Tonka Bean Shake, the "burger" is a giant vanilla macaron as the bun with a chocolate ganache as the burger, passionfruit gel as the cheese & raspberry coulis as ketchup. I was in dessert heaven. It was such a unique dessert and as you all know I'm a HUGE macaron fan. I was not let down. Perfection. Honest Perfection.
Overall, BMB was wonderful and I honestly couldn't pick any major faults. As it was Opening Day I was expecting some hiccups or mistakes as its natural with first day (and week) nerves but none occurred. I can safely say that I highly rate BMB as one of my favourite places to eat in Glasgow now after just one visit. The food is superb, staff friendly, great decor and atmosphere. It could be seen as expensive however, BMB pride themselves on using high quality local ingredients from local suppliers (Aberfoyle Butcher, Big Bear Bakery, Gartmorn Farm and George Mewes), producing tasty simplistic food and they did just that. To me, that's well worth every penny.
Expectations? Exceeded. Believe the hype. It's THAT good. They really do do burgers. But better.
Burger Meats Bun
48a West Regent St.
1 William Street
Glasgow, G2 2RA
Tel:Â 0141 353 6712
Web:Â Burger Meats Bun
Rating
Food -

10/10

Service -

10/10

Value -

10/10