Or just simply known as Roast Beef in English, is one of my favourite things to cook. I cook it the French way, based on a simplistic French recipe that needs little ingredients but tastes amazing! I've cooked this numerous times and each time, with a different style of potatoes… creamy buttery mash or rosemary roasted. The beef literally melts in your mouth & the combination of flavours are amazing. A must try for any meat lover.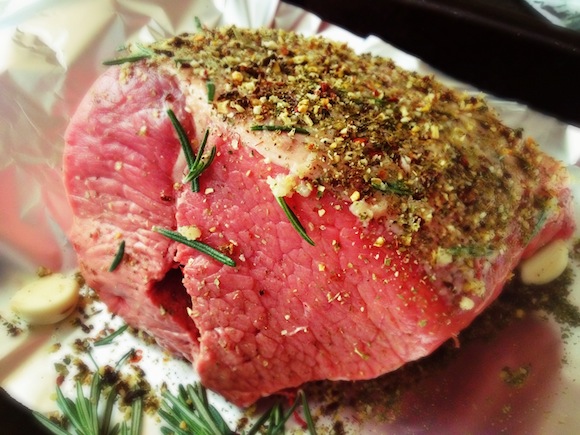 Ingredients:
1 kg Roasting Beef (I used good quality Silverside today)
4 cloves of garlic
A bunch of fresh rosemary & thyme
1 tbsp mixed herbs
1 tbsp crushed garlic (out of a tube or jar, to be lazy!)
A little butter
Salt and Pepper
Method:
1. Preheat the oven to 240°c for 15 minutes then turn down to 180°c.
2. Make a few holes in the roast and add the crushed garlic. Rub the butter, fresh thyme, rosemary, mixed herbs, salt and pepper forming a crust.
3. Wrap the beef in aluminium foil & roast in the oven for 50 minutes until it's nicely pink in the center. If it's too pink, add 10 more minutes onto the cooking time and test it. I'm not a fan of a meat being too bloody so this cooking time is perfect for me (after numerous calculations!).
4. Let the beef stand for 5-10 minutes before slicing thinly.
5. Make a jus using the juice and herbs from the roasting tin, adding a little red wine, salt, pepper & 1/2 tsp of cornflour to thicken.
6. Serve with your chosen sides & enjoy!
Sadly I completely forgot to take a photo of dinner once it was all plated up with mixed vegetables & my garlic rosemary roast potatoes. Instead, here is a photo of the dish the last time I cooked it with creamy buttery mashed potatoes 😀
Preparation time: 5 minutes
Cooking time: 50 minutes
Serves: 5 people (but hey you can cook it for yourself & have tons of leftovers!)