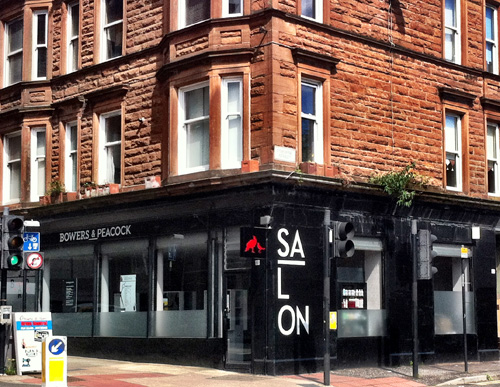 I have a love/hate relationship with my hair. As a little kid, I was born with really fine & thin hair, the type of hair you could hardly do anything with. I've lived in different continents where the weather has had huge effects on my hair, be it frizzy from humidity to dry & course living in the Middle East. My hair has also gone from poker straight as a kid to thick and wavy as it is in my adult years.
My natural hair colour is a mix of 3 different colours; brown, blonde & red, however, it's rather dull therefore, every now & then I dye it to get some life into it. The problem is, my hair is so thick as well that no matter what I actually do, I always end up sticking it up in a ponytail because it get's to the stage that you can't really do much else with it!
I've been back in Glasgow since 2006 & I've still not found a hairdresser that I'm 100% happy with. I think with anything, when you do find a place that you really like, you will always go back time & time again. Sadly, I've never really had that experience with a hair salon. Until now.
My hair was getting way too long & unmanageable, so I decided that it was about time that I did something about it. I looked around at different salons in the area such as Sasson's & Alan Edwards which are two of the popular salons in Glasgow but decided to try Bowers & Peacock instead after striking up conversations with them on Twitter (plus the fact they were cheaper!).
Upon talking with them, it turned out that Bowers & Peacock was actually a re-brand & they were in the process of renovating the existing salon. The salon used to be called 'Jar Hair' run by 3 different partners. From that, John & Rocco (the J & R of Jar, just incase you didn't get that!) decided to take over the salon by themselves. Bowers & Peacock was then born, re-opening on June 14th 2011 after a massive revamp & re-branding.
I made an appointment with Bowers & Peacock for last Friday. In my head, I had already decided that I wanted to change my hair up a bit. I was pretty much bored with my current hair style & colouring but had no clue what to do with it. One thing I did know was that I didn't want to cut it really short again as on lazy days, I like tying it in a messy ponytail, especially in the office.
After getting lost trying to figure out where Bowers & Peacock's was situated, I eventually made it on time for my 1pm appointment. I was greeted by a friendly receptionist & shown the waiting area while Rocco (who was going to be doing my hair) was finishing up with someone else. I was then asked if I wanted a drink & talked into trying one of the homemade brownie's that they have in the salon (later I found out that it was Rocco's partner Craig who made them, to die for!).
I had a little chat about my hair with Rocco before we started, I told him that my scalp has become really dry the past few months after taking antibiotics for a chest infection I had which flared up my skin & since then, I haven't been able to get rid of it. Rocco recommended a product to me which they ran out of, but gave me the name of it to buy it myself somewhere else which was great (I've since managed to get a hold of the product & can't wait to try it out!). We then discussed possible hair colours I could go for. I personally like dark colours, I wanted something darker but with a lot of shine. Rocco then recommended warm rich colours based on my skin colouring & told me the difference between the different brown colourings around in relation to skin colours. The colour "Iced Tea" by L'Oreal really stood out to me & it was the exact one Rocco was thinking about as well as it was a high gloss shine & warm.
While he was putting the colour on my hair, we spoke about the re-vamp of the salon & told me that all the furniture was custom-made by his friends. I really loved the purple seat in the waiting area, that was my overall favourite. The old school barbershop chairs were re-covered with customisations, the mirror's with the built in storage for appliances were really nice as well. There were even illustrations of a peacock & a bower bird throughout the salon which gave it a big personal touch based on the surnames of both owners. Unique artwork was also featured on the walls which another friend of the owners created. Everything revolved around a colour scheme of black, grey and purple & had a real boutique salon feel to it. I loved the fact that the entire salon had personal touches to it, it wasn't the run of the mill salon, but one which a lot of love & effort was put into it to create. Just like the homemade batch of brownie's which are given out to all customers 😀
After all the colouring was put on my hair, I had to have this random ultraviolet machine just above my head for a while (I honestly can't remember what it was called!) until the hair dye set. After it was all washed off, the hair cutting began! I asked for around 2/3 inches to be taken off, my hair thinned a little bit & my long fringe at the front layered a bit more. One thing that has never happened to me before is the fact that Rocco actually asked how I style my hair & if I normally blow dry etc. Usually salon's just blow-dry it straight for you & use hair straighteners as well if you don't have visible curly hair. However, Rocco asked me questions that made me go "oh!". When styling my hair, I usually have the top half straight & the bottom half wavy with big curls for volume without using any extra hair products. So when blowdrying, Rocco put big waves into my hair using the rounded hairbrush, something I've never seen before (usually it's all done by hair straighteners!).
Finished product? I loved it! In total, it cost £109 to colour, cut & style my hair which is pretty reasonable based on the quality of the finished product. The colour looked great against my skin tone, the cut was really good, my head felt instantly lighter, my hair had an amazing shine to it & the way it was styled was perfect for me! My hair once again had life! I knew half was through the hair cut & blow dry that I had finally found a salon that was perfect for me. One that took the time to get to know it's clients, give recommendations & suggestions for the client based on questions asked. That is key & now I've found a keeper!
Bowers & Peacock is located on:
57-61 King Street
Glasgow
G1 5RA
Tel: 0141-552 6789
Note: Thanks to Rocco for taking photos of my hair & letting me take photos of the salon for my blog afterwards 😀