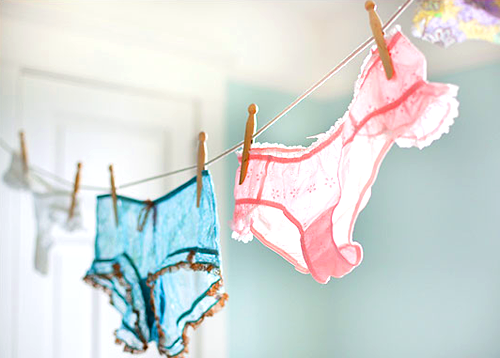 Last month I was asked if I wanted to review some underwear from Panty By Post & me being a girl said "why of course!". I am extremely fussy when it comes to undies, it may because I have super huge watermelon boobies & a ghetto ass but I will NEVER buy underwear without trying it on therefore online shopping is a huge no-no. I guess that is one of the things that I was a little hesitant on when I was sent information on Panty By Post. The fact it IS an online shop for panties & you have to guesstimate the correct sizing for you based on the details given (the sizings are in US so trying to convert to UK/EU sizing was a little tricky).
Panty By Post started in Paris in August 2008 and is based in Vancouver, Canada. Owner and founder Natalie Grunberg has always been inspired by the French and it's no surprise that she's built up a company that has distinguished itself as a unique brand with a very French twist. Customers subscribe to the service from all over the world, with the biggest following in Canada, the USA, and France. Our mission at PBP is the spread the pleasure of French lingerie all over the world and with each pretty package, send a message of love and joie de vie (enjoyment of life)!
The way Panty By Post works is via a subscription based service with customers from all over the world, the biggest following being in Canada, the USA, and France. Placing an order with Panty By Post is really simple and within the Signature Line, they have different styles catering for all sizes (men too! not panties though, boxers!). You can order a one off Panty for $30 (or sent 2 for $40!) or subscribe to one of the order options which are either 3, 6 or 12 months, where you will be sent panties in the post monthly.
A week or so went by & I forgot all about the upcoming review when I was delivered a package in the post. I instantly new it was from Panty By Post because it was written all over it (the red face on the mail mans face was also a give away!). I opened the package & loved the way my chosen design was package so delicately & was scared to rip the paper open! One thing for sure is, I loved the packaging!
When I saw the chosen pair I was sent, I was instantly struck by an amazing blue color which stood out against the black & A LOT of frill. One thing I am not is a frilly girl but they did look extremely pretty! I tried them on & they turned out to be a tad bit too big for me. My fault though as I guesstimated my US sizing & failed. Miserably. They are super comfy but the frills did put me off a little. I'm honestly not sure I would wear them on a day to day basis, maybe keep them for a special occasion. With anything though, it is all down to personal preference. If they had less frills I would have loved them & worn them all the time (washing them of course!).
Panty By Post is a great overall idea, I wish they had a bra to match the panties I was sent because I'm in love with the color! I am not sure how well the business model would work within the UK as a whole as they are trying to branch out over here. I do think it is aimed more possibly at busy women who want to dress up, women looking for bridal lingerie & men spoiling their partners. It would be really interesting to see the total number of subscriber numbers against one off buyers. I personally don't think I would take a subscription initially with them but rather buy the 2 at once for $40 every so often when I want to splash out (getting my size correct this time!)