For some reason, every time I have a day off from work, I want to bake. It might be because I have a crazy stressful job & baking to me is a stress relief, not just a hobby. Every time I bake, I bake tons then give a batch to my next door neighbours & then the guys I work with. The other day I was requested to bring in some goodies as it's been a while since I have. So, I decided to try something new…. Oreo Truffles & Banana Muffins. The result? AMAZING! I posted photos on twitter during the baking process & nearly everyone is asking for the recipe so I thought that I should get my butt into action & blog them ASAP! I hope that you all enjoy them & make them for yourself, if you do, let me know how you got on 😀
Oreo Truffles
Ingredients:
2 packs of Oreo Cookies (Morrisons in the UK are currently doing a deal on them, 49p instead of 99p, bonus!)
1 tub of Cream Cheese
300g White Chocolate, Melted
Method:
1. Crush Oreo's using either a rolling pin or a mini food processor (I did, much easier plus I'm lazy!) and stir in softened cream cheese. Mix together well. Try & resist sticking your finger into the mixture. It's addictive!
2. Roll the mixture into small balls with your hands (Warning! It's messy!) and place on a baking tray which has wax paper on it to prevent sticking. Pop into the fridge for around 10-15 mins to set a little bit.
3. Melt chocolate in the microwave until melted (be careful it doesn't burn!) and then dip balls into chocolate, tap off extra and place on the baking tray. I then used some crushed Oreo's to sprinkle on top.
4. Leave to set & then pop into the fridge. Quick, Easy & To Die For!
Banana Muffins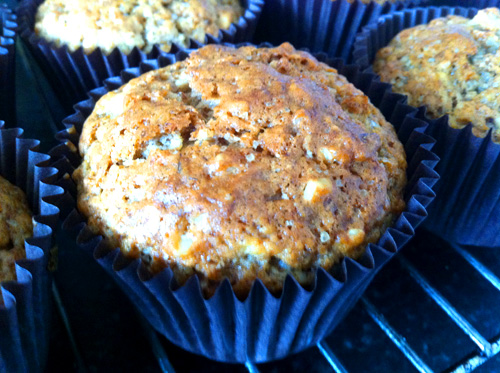 Ingredients:
120g Walnuts
230g All-Purpose Flour
150g Granulated Sugar
1 teaspoon Baking Powder
1/4 teaspoon Baking Soda
1/4 teaspoon Salt
1 teaspoon Ground Cinnamon
2 large eggs, lightly beaten
115g Unsalted Butter, melted
3 Ripe Large Bananas, mashed well
1 teaspoon Pure Vanilla Extract
Method:
1. Preheat oven to 180 degrees celsius and place the oven rack in the middle of the oven. Line a 12 muffin baking tray with muffin cases.
2. In a large bowl combine the flour, sugar, baking powder, baking soda, salt, cinnamon, and nuts.
3. In a medium-sized bowl combine the mashed bananas, eggs, melted butter, and vanilla. With a wooden spoon, lightly fold the wet ingredients into the dry ingredients just until combined and the batter is thick and chunky. Do not over mix the batter, over mixing the batter making the muffins rubbery!
4. Spoon the batter into the muffin tins. Bake for around 20 minutes or until a toothpick inserted in the center comes out clean. Place on a wire rack to cool for five minutes and then remove muffins from the Baking Tray. This makes approx 12 muffins.