Regular visitors to my blog will remember that I was sent a variety of chocolate from Chocolate & Love to review way back at the beginning of the year. It proved a hit & with part of the chocolate, I created the most amazing dark chocolate cupcakes.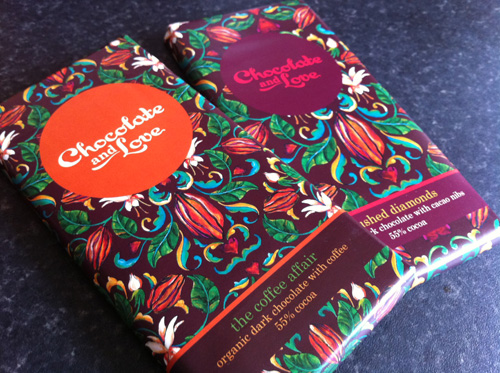 So when I was approached & asked to sample some more chocolate, once again I decided that if anyone, I shall suffer in the name of experimentation & test all this chocolate so no one has to suffer 😉 Chocolate and Love is an online chocolate boutique with a collection of the finest chocolates created by award-winning brands and chocolatiers from around the world. Their website is full of a variety of different chocolate ranging from organic to gluten & sugar free. Buying it online, they deliver straight to your door & also have an amazing Chocolate Club where every month you are delivered a range of chocolates to taste, my idea of heaven.
I was sent a few bars of Coffee Affair & Crushed Diamond & couldn't wait to try them. I love coffee, in fact I'm addicted to the stuff. I loved the creamy texture of Coffee Affair, the little hint of coffee & even though it was a dark chocolate, wasn't bitter at all. It was my favourite of the two & if anything I'd want more of a coffee taste from it. The Crushed Diamond bar tasted like a Dime bar, except it was dark chocolate with little nuggets of chocolate in it instead. I like this one as well, it hard to fault it, it's a tad bit bitter but it's to be expected with dark chocolate.
After tasting 1/2 the bars, I decided to put the rest to good use & like I did the last time, bake something using the chocolate. This chocolate is perfect for baking as well since it's a high quality product. It took me a while to figure out what I wanted to bake, then it hit me, create my all time favourite desert. The French Fondant au Chocolat *screams of joy* as well as mini dark chocolate cupcakes. It was instant love as soon as I smelt the finished product & it tasted even better, especially with the little hint of coffee coming through 😀
& now you can enjoy it as well 😉
Fondant au Chocolat Ingredients:
129 Butter
125g Dark Chocolate
175g Sugar
A Pinch of Salt
2 Eggs
70g Flour
1tsp Baking Powder
50g Chopped Walnuts
Icing Sugar
Method:
Melt the butter and chocolate over a low heat and blend well. Cool to hand temperature, then add the sugar and salt and cream everything with a hand mixer.
Preheat the oven to 180c. Beat the eggs one at a time into the butter & chocolate mixture. Mix the flour and baking powder, sieve and fold into the chocolate mixture, then add the chopped walnuts.
Grease a springform tin. Pour in the cake mixture and bake for approx 25mins. The cake should remain slightly runny inside. Leave to cool and serve decorated with icing sugar and some walnuts. Cut into slices, serve on it's own, with ice cream & squirty cream… enjoy <3 [gallery columns="5"]