A few weeks ago I got a package sent to me from JML with silver & caramel EZ Combs to test out on my hair. I remember seeing an advert on the shopping channel about these & my mom telling me I should get them to keep my hair tidy at work but I wasn't so sure about them. When the chance came to test them out for free, I couldn't wait!
My hair is naturally thick, long & wavy… some days it's nice & pretty, the next it's a big messy ball of fluff only good for tying up in a ponytail. It gets annoying at times but I got used to it after all these years!
So then, I get sent the EZ Combs. With one clip you can try 8 different up-do's which are not only instant but easy to use, as well as being comfortable on your scalp! The website states:
Whether your hair is long, short, thick, thin, curly or in cornrows, the comfortable design gives you the flexibility to create dozens of different looks. And because of the fine beaded detail, Ez Combs mean you can add a touch of sparkle to any outfit, casual or formal! Unlike claw clips and hair bobbles, Ez Combs lays flat and conform to the curve of the head. Leave it in when you take a nap, and you'll sleep comfortably and wake with your hair still in place!

* Twin pack black and sandalwood or bronze and silver
* Soft and comfortable
* Works for all hair types
* Holds hair firmly in place
* Includes a step-by-step styling guide
* Also available in twin-pack bronze and silver

Try these amazing looks
1. Classic
2. Up-do
3. Fountain effect
4. Butterfly twist
5. Pony tail
6. Pony tail butterfly twist
7. French twist
8. French butterfly twist
When it was time to try them I was a little confused about what to do, it looked rather tricky & I was scared to stretch the beads incase I broke them but after a few tries, you realise that these babies are so flexible you can stretch them without the need to be scared of breaking them. This is good for people with really thick hair like myself!
I admit that I was useless when trying them out for the first time on myself & needed backup from my mom and she was the one who put my hair up in all the different styles (reminding me of being a little kid again lmao!). At first it was hard to stretch them wide enough to fit all my hair but after a while we were doing it no problem & it looked great!
Since then, I've managed to actually use them myself without any help, this may be because they have stretched a little and been broken in. As I'm typing this I am using the caramel comb in a fountain effect to keep my lump of fluff all need at tidy 😀
The first disaster try:

The follow up ones that were pretty nice: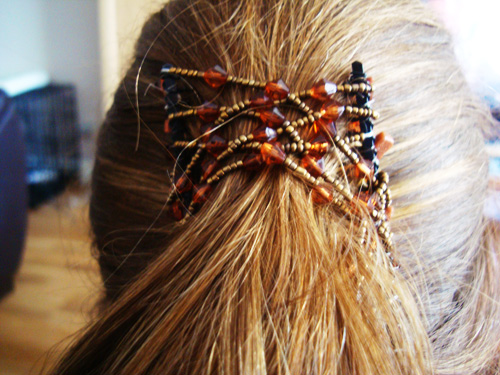 The EZ Combs are £14.99 for two combs which come in either Black/Sandalwood and Brown/Silver. For more info and to buy your own EZ Combs just visit the JML Website