I came across the recipe while browsing Hannah's blog and decided that I MUST make it. Living in Singapore when I was a kid, I'd eat this A LOT, it tastes amazing *drool* and a must have make at home kind of food! It's simple to make & delicious 😀
The original recipe came from the Visit Singapore website but I did some changes to the recipe myself. For the rice, I used garlic puree paste because, as Hannah's said, I didn't want garlic bits in people's mouths lol. I've written my version of the recipe with the small changes I made for you to try, or you can see the original one.
Ingredients for Chicken & Rice
1 Whole Chicken
2 Scallions, cut into 1 inch pieces
6 slices fresh peeled Ginger
4 tsp of Garlic Puree Paste
4 cups Uncooked Basmati Rice, washed and drained
1 tsp fine salt
Ingredients for Chilli Sauce
3 tbsp freshly squeezed lime or lemon juice
4 whole chilies finely chopped (red preferably)
5 cloves garlic, chopped
3 slices of ginger finely chopped
1 tsp fine salt
1/2 cup boiling hot chicken stock (this is taken from the chicken after it's ready)
Method
Boil a large pot of water. Stuff the cavity of the chicken with scallion, ginger and some garlic puree paste. Add chicken to boiling water, breast side-down. Lower the heat to a simmer just under boiling point and cook, covered until just cooked through, about 40 minutes. Bathe the chicken in an ice water bath till chicken is cold to create a tender, springy texture. Heat garlic in a pan for the rice, stir fry till fragrant. Add uncooked rice, fry for a minute, add salt and enough chicken soup to cover 1/2 inch above the top of the rice. Boil on high heat, lower heat when steam holes form, cover and steam for 30 minutes till rice is cooked. Chop chicken and serve with steaming hot rice and chilli sauce. Dark soya sauce is the ideal accompaniment.
Method for Chilli Sauce
Add all the ingredients into a bowl & mix together, then put them into a blender & blend for a minute until liquid… easy!
From this: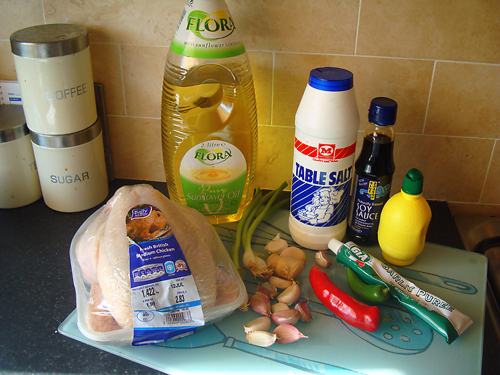 To this:

Let me know how you get on with making this, you won't regret it 😀