I recently got sent an email to review a t-shirt from Iffyton High Street via Fuel My Blog. I had a whole variety of different t-shirt's that I could choose from within their website, but I ended up choosing a cartoon Michael Jackson one by Royal T which looked hilarious, documenting his various "looks" throughout the years.
The t-shirt arrived a couple of days ago and looked even better than it did on the website. The t-shirt is 100% cotton, high quality, comfortable and very soft on the skin which is always a good thing. When ordering the t-shirt online, I chose the wrong size (my own fault really) so instead of modelling it on myself, I used my brother as my guinea pig and now he wants to steal the t-shirt & keep it from himself 😀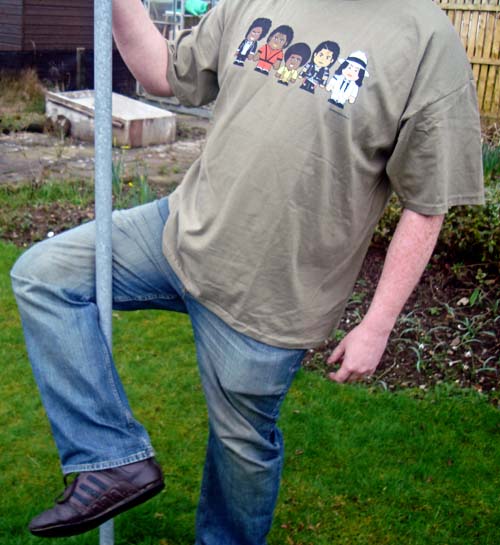 Washing the t-shirt couldn't be as easy, just pop it in the machine inside out at a warm temperature with similar colors and once it has been washed, tumble dry but it cannot be ironed or dry cleaned, but if you are worried about creases, just take the t-shirt could the tumble dryer just before it's about to stop while it's still warm and it should be crease free (a tip my mom taught me!)
This particular t-shirt is available on the website for £12.99 which I think is great value for money due to the quality of the product. Only available in one color, a brownish/green, you can get it in sizes Small, Medium, Large, Extra Large and Extra Extra Large, so you can always find the right fit for you.
Iffyton High Street has a great variety of t-shirts available for sale, under various different brands, such as Royal T in their website which is such a great innovative design made to look like a real shopping high street. Ordering is really simple, very user friendly & easy to navigate through.
I'd really recommend you check them out & order a t-shirt! It was so good, even the dog liked it…