It's been a while since I posted one of my foody creations, I didn't want you getting bored of me posting about food so I stopped posting for a while, the result is… I have a backlog of pictures and recipes to blog about.
My grandfather was craving this dish, so I had to try find the ingredients in the cupboards and fridge to make it. We didn't have any garlic so I had to make do with adding extra herbs and you really couldn't tell that garlic was missing, which was a good thing 😀 It turned out really nice and flavoursome.
Ingredients:
500g Minced Beef
1 Onion, Chopped
1 Can Chopped Tomatoes
4 Fresh Tomatoes
5 Mushrooms, Sliced
1 Red Pepper, Sliced
Handful of Fresh Basil chopped roughly
2 tbsp Tomato Paste
4 tbsp Dried Mixed Herbs
1 tbsp Chopped Garlic (if you have it!)
Method:
1. Fry Onion in a pan on high heat until golden. Next add the minced beef and stir until brown.
2. Add vegetables, tin of chopped tomatoes, tomato paste, mixed herbs, garlic, and basil and mix together throughly making sure all the minced beef is covered.
3. Turn down the heat on the stove, and cover the pan letting the mixture simmer away for 20 minutes. Make sure you stir occasionally so it doesn't burn or stick to the bottom of the pan.
4. Next, boil some water on high heat until bubbles appear, then add in a handful of dried spagetti. Once it all has shrunk into the pan (see pictures), turn heat down a little bit and let it bubble away for 10-12 minutes until tender.
5. Drain the water from the spagetti and put on a plate covering with some of the bolognese meat, maybe some leftover basil leaves and enjoy 😀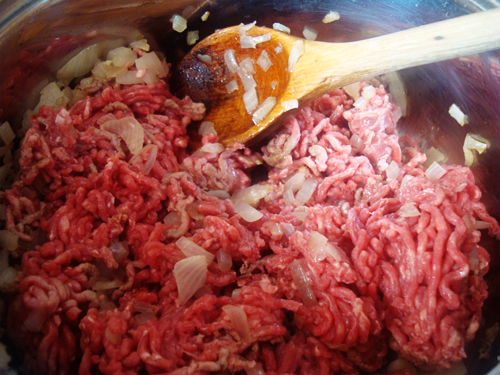 Coming in the next few days…. Roast Chicken & Pasta Bake with Homemade Garlic Bread *yum*