I regularly have pizza cravings. I wanted pizza. I needed to have pizza. To be fair, who wouldn't want pizza? Pizza is the greatest food group there is. So I was on a mission to feed my desire with the best pizza I could find. Not an easy task when there are only a handful of places in Glasgow that serve half decent pizza.
And then Paesano Pizza popped up in Glasgow at the tale end of 2015.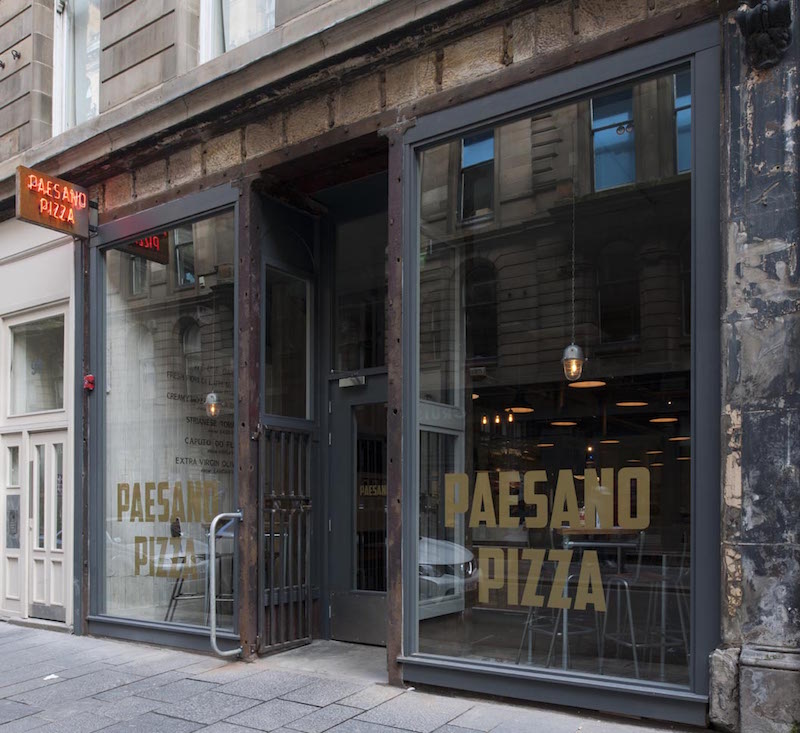 Who are Paesano Pizza?
At Paesano Pizza we are the first to bring authentic, traditional Napoletana pizza to Glasgow. Cooked in Artisan built wood fired ovens from Naples, our Pizzaiolo take pride in adhering to the process in production of the dough and provenance of the produce to Verace pizza Napoletana standard. Our pizza is a hybrid yeast and sourdough proofed for over 48 hours. The long proofing time together with cooking at an intense heat of 500oC produces a moist, light, soft, digestible crust which is aromatic and delicious.
They had me at authentic, traditional Napolentana pizza.
So one Saturday I popped along after seeing some photographs and it looked pretty spectacular. All that cheese. Yes please. I was not disappointed. Holy Moly Pizza Gods.
The decor
Paesano Pizza reminds me of a rather hipster pizza joint that you'd expect in London. Lots of exposed wood and bricks, dim lighting, an open kitchen and tables all slightly too close together.
My favourite part of the interior has to be the giant lightbulbs spelling Paesano at the entrance. Nothing says hipster chic than your name in lights! Now where can I get them?!
The food
Along with their normal menu, they also have a daily specials board. Ross & I decided to get the Spiniata spicy salami from Calabria with tomato sugo, mozzarella and evoo (£7) and Prosciutto cotto (Italian cooked ham) with portobello mushrooms, tomato sugo, mozzarella, fresh thyme and evoo (£8) to share.
As they are cooked in a wood fire oven, from ordering to eating, I'm pretty sure they arrived at our table in less than 10 minutes. The pizzas were SO good. The crust was so light and fluffy, like giant fluffy pizza clouds. Delicious toppings and perfect with some chilli oil drizzled on top for added spice. We also ordered a mixed salad on the side (£2.50) and we got a bowl, full to the brim of salad leaves, tomatoes and red onions. Wonderful accompaniment to the pizza.
After finishing the pizza, I wanted dessert. I have no idea how I found room for it but we shared the Apple Pie with Vanilla Ice Cream (£4) Special on the day. The Apple Pie was delicious, but would have preferred if it had been warmed. I love the Mr Whippy style ice cream but at £3 for a "big whip" it is a little steep on it's own!
Are they worth a repeat visit?
Since my initial visit to Paesano Pizza in collaboration with CitizenMag, I have been back 4 or 5 times. I always seem to make a beeline for the Spiniata spicy salami pizza. It is just too good to say no too. For added measure, I request some rocket and Parmesan on top. It does jump the price up by a few pounds, but it is a perfect addition. I also have it on good authority that the Burrata with cherry tomatoes along with the Artichokes and sun blushed tomato side dishes are superb.
Don't get me wrong, Paesano isn't without its flaws. There have been times when the pizza base has been too soggy for my liking and the toppings just slide off. However, that's the authentic Neapolitan way and it doesn't distract away from the fact that they do some damn fine pizza.
Staff have always been really friendly and helpful when asking about the different drinks and pizzas. If you don't know what to order, they will also give you their recommendations. Depending on what night you're in, it can be a little hard to get their attention, especially when trying to pay the bill. Paesano Pizza do not accept bookings, but that has never been a huge issue, even on a busy Saturday night. The longest I've ever had to wait for a table is around 10 minutes and the pizza is definitely worth the wait.
Is this the best pizza in Glasgow? Yes, without a shadow of a doubt.
Have you ever been to Paesano Pizza? If not what are you waiting for?! What is your favourite pizza? Let me know in the comments below!
Paesano Pizza
94 Miller St
Glasgow
G1 1DT
T: 0141 258 5565
W: www.paesanopizza.co.uk
Photo Credit: Interior and Exterior photos by Paesano.
Food -

10/10

Service -

8/10

Value -

9/10