Sometimes, all you really need is a little break away from the reality of your daily life. Ross & I did just that by recently spending 72 hours in London. We both went to London last summer and spent 3 great days exploring the city, seeing a musical, touring coffee shops, discovering new restaurants and shopping. This time around, we pretty much did the same.
Monday
We flew down to London City Airport with British Airways. This is definitely the best way to get to London and also so much handier than dealing with Gatwick or Heathrow Airport, not to mention the dreaded rail services. Oh and children. Screaming children.
Our first port of call after hopping on the DLR and Underground? Kings Cross Station to drop our baggage in the left luggage area so we could roam around before checking into our apartment at 3pm for the night. We fought our way through Norwich and Middlesbrough fans then headed straight for the closest Honest Burgers. Thanks to prior research and Google Maps, it was only a 5 minute walk away, in basking sunshine. I'm going to be posting up a separate review of Honest Burgers so keep a look out for that in the next few days.
As we still had a few hours to go before checking into the apartment, Ross dragged took me to a few coffee shops that he had previously been to during the London Coffee Festival and his subsequent coffee tour. My favourite place? Shoreditch Grind, just outside of Old Street Station. We visited this place several times in the space of 24 hours and we couldn't get enough of their espresso, iced coffee and cold brew on tap. It's definitely a must visit if you are nearby.
I was lucky enough to book a Smart City Apartment on City Road (Islington) during their annual flash sale. Instead of around £230 a night, we got a two bedroom apartment for £1. Yes, just £1. Bargain. You could only get the apartment at a reduced rate for one night so for the next night, we booked into the Lancaster London right next to Hyde Park.
After a much-needed dog cat nap, it was time to make our way to the Apollo Theatre to see Wicked. I've been dying to see Wicked for years and missed out getting tickets for the Glasgow tour. As a lovely gesture, Ross's dad bought us two tickets as my birthday present. I've never been so excited! The show was mesmerizing. I loved every part of it. The singing was sensational. If you've never seen it, you definitely should!
Tuesday
We checked out of the apartment and made our way to Shoreditch to explore the area, check out Brooklyn Coffee on Commercial Street and then grab some lunch at Old Spitalfields Market. We had a Turkish lamb wrap from an unknown stall, Roast Chicken with a mix of salads from Le Camion Gourmand, an amazing green grass-covered food truck and mixed fries from Bleecker Street. There was so much food to choose from and so little time. I really need to go back again to try more of the stalls!
Afterwards, we made our way to our new hotel, Lancaster London, before heading to do some shopping on Oxford Street. We made a bee line for Selfridges Food Hall. Forget clothes shopping, London is all about food for me. We picked up lots of pistachio chocolate, chilli marinades and other little gifts amongst other things. After a little wonder on Oxford Street picking up bits & bobs, we returned to the hotel to get ready for dinner.
We were dining at Noura, a Lebanese restaurant in Belgravia. I adore Lebanese food and in Glasgow, it's rather hard to find an authentic restaurant that does the food justice. A separate review of Noura will be up on my blog rather soon, full of photographs, taken by an Architectural Photographer, that will make you want to reach in and grab the food from our plates. It was delicious and I could eat everything we had ordered all over again, right now.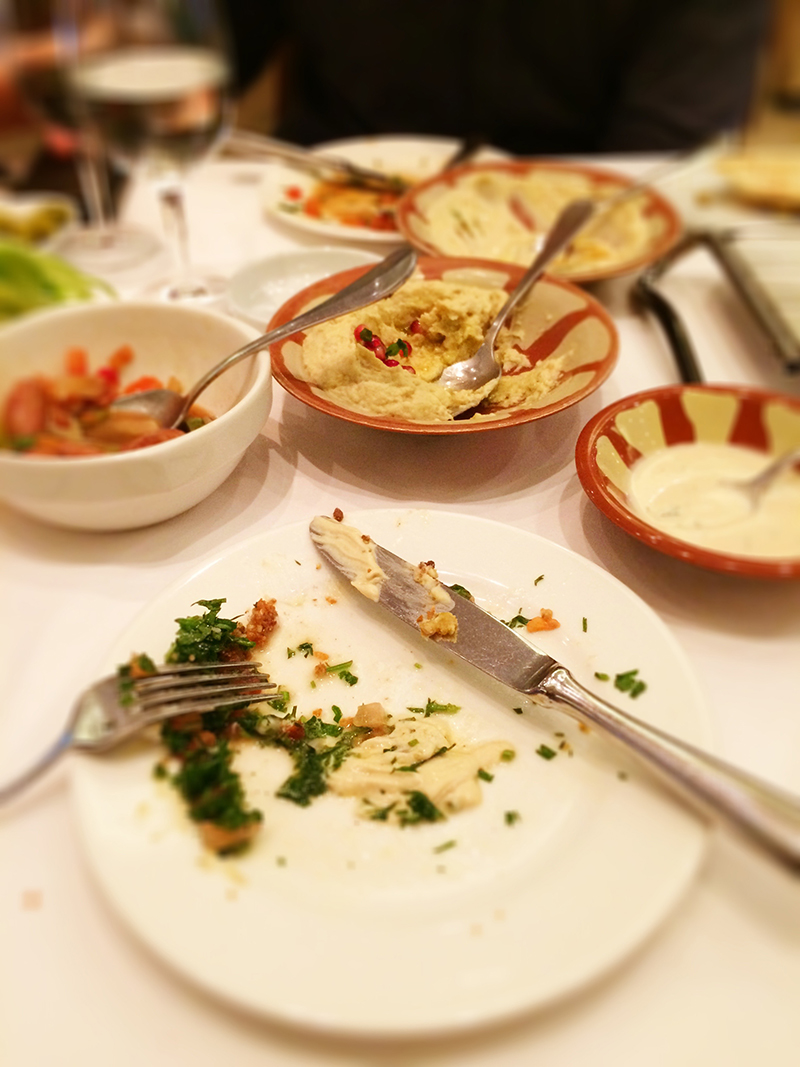 Wednesday
It was time for us to get ready to leave our surroundings, check out the hotel and leave our bags for the day until we headed back to London City Airport that evening. Lancaster London is situated right on the doorstep of Hyde Park and next to Lancaster Gate Underground Station on the Central line. Apart from its amazing location, sadly there wasn't much else that was positive.
The hotel room we were given was very outdated and tired. The upholstery was torn on the chair and curtains ripped. Don't get me started on the elevators. Out of four elevators in the hotel, only one was working. The others were out-of-order or used by room service. After almost 15 minutes waiting for an elevator with room on it, a staff member appeared and took us to the back of the hotel down the service elevator that staff members use. Not very customer friendly but definitely appreciate the staff member who helped us! Sadly, I doubt I will ever stay at this hotel again. If you class yourself as a 4 star hotel, the rooms and facilities should mirror that.
Our last day was spent around South Kensington, Knightsbridge, Covent Garden and Soho. To start our day, I dragged Ross to the Natural History Museum. I adore looking at Dinosaurs and other Mammals. We had to wait over 45 minutes just to enter the museum and then another 20 minutes to get close to the Dinosaur exhibition. I wasn't very impressed with the exhibits though. The museum was so busy that you couldn't get a great view, people were shoving you and almost everything is behind glass which makes all your photographs terrible. A very big let down.
To cheer me up, we went to Maître Choux who make faboulous éclairs, choux and chouquettes. I discovered them via twitter and were on my must visit list, especially after discovering they have a line up of Pistachio choux. I loved the little shop and bought a box full of éclairs to take with me back to Glasgow (the first time their products have been on a plane as well!). I'm glad to say they arrived in one piece, they weren't squashed and tasted sensational. Well worth the price!
After a little pit stop for coffee and a much-needed trip to Harrods Food Hall, buying lots of things we didn't really need, we headed for lunch to one of our favourite places, Homeslice in Neals Yard, Covent Garden. We first came here last year, waiting almost 30 minutes for a table for one of their infamous 20″ pizzas for £20. Luckily, as we were grabbing lunch, there were a few free tables. Instead of getting the Salami pizza again, we decided to change things up and get a half & half. Half Salami and Half Beef Brisket. We adored the pizza last year, proclaimed it as the best pizza in the UK. This year? Well, the base of the pizza was extremely salty, I actually had to brush salt off of the base to eat it. The flavours of the toppings as per usual were great. It's a shame because when they get it right, they are amazing. Is it still the best pizza in the UK? I'll hold off answering that until the next time I'm in London.
We crammed a lot into our 72 hours in London but even then, it didn't seem enough. I try to plan as much as possible so we can optimise our time. My legs and feet were well and truly damaged and after returning to Glasgow, I felt like I needed another little staycation to get over London!
Until next time though, my must visit list is ever-growing….