A couple of weeks ago, I had the urge to bake these cupcakes. I never made them before but had seen photos around the internet so I thought I'd recreate it at home. The result was AMAZING! They are so cute, I gave boxes to my friends who gave them the thumbs up. Now you can create them too 😀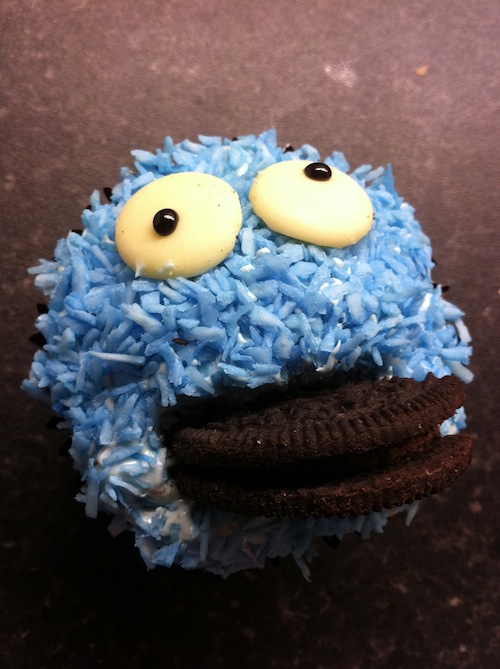 " alt="" title="photo 1″ width="500″ height="669″ class="alignnone size-full wp-image-4151″ />
FOR THE CUPCAKES
1 1/2 cups all-purpose flour (spooned and leveled)
1 1/2 teaspoons baking powder
1/2 teaspoon salt
1/2 cup milk
1 teaspoon pure vanilla extract
1/2 cup unsalted butter
3/4 cup sugar
2 large eggs
ICING, FUR, MOUTH, NOSE & EYES
1/2 cup unsalted butter
3 cups confectioners' sugar
1/2 cup milk
1/2 teaspoon vanilla extract
1 bottle of red and blue food coloring
Milkybar buttons
A packet of cookies (I use Oreos)
Black Icing pens (can buy at any supermarket, or use melted chocolate)
A packet of coconut shavings
Orange Peanut M&M's for Elmo's nose
DIRECTIONS
Preheat oven to 180 degrees. line the cups of a muffin tin with paper or foil liners. In a small bowl, whisk together flour, baking powder, and salt; set aside. In a liquid-measuring cup, mix milk and vanilla; set aside.
In a large bowl, with an electric mixer, beat butter and sugar until light and fluffy, 3 to 4 minutes. Add eggs one at a time, beating well after each addition. With mixer on low speed, add half of dry ingredients, followed by milk-vanilla mixture, then remaining dry ingredients. Do not overmix.
Divide batter evenly among prepared muffin cups, bake until a toothpick inserted in center of a cupcake comes out clean, approx 20 minutes (I timed it perfectly at 18 mins). Cool cupcakes 5 minutes in tin, then remove and cool completely on a rack before the next stage.
For the icing you will need to split this mix after making it then dye it the shade you want if making cookie monster and elmo. In a medium bowl, with an electric mixer, beat unsalted butter, confectioners' sugar, milk and vanilla extract until smooth. Mix in up to 1/2 cup more sugar or a few more teaspoons of milk as necessary to achieve a spreadable consistency. Makes enough for 12 cupcakes. After the icing has been made, add 1/2 the bottle of food coloring to dye it blue (and red).
For the fur, put some coconut shavings into a bowl and mix in the remainder of the food coloring to turn it blue (and red). You may need to use another bottle of food coloring depending on how many cupcakes you want to make.
ASSEMBLY
Take the cooled down cupcake and cut a mouth shape in it in a crescent shape & take out the cake slice so that there is a hole (think fairy cake but on the side). Roughly ice the cupcake with a spoon to cover the entire cupcake then dip the iced cupcake into the coconut to add the fur. The hard bit is remembering where you made the slit so use your thumb on the casing as a guide so you remember where to slide in the cookie.
For the mouth, cut a cookie in half (or use an entire one!) and push into the dug out hole, the icing should set it in there nicely as well.
For the eyes, get your milkybar buttons and put little black icing dots on them then push them into the top of the cupcake. If need be, add some blue (or red) icing to the back of them so they don't fall off.
For Elmo's nose, put some icing on one side of the M&M and push into the cupcake just below the eyes.