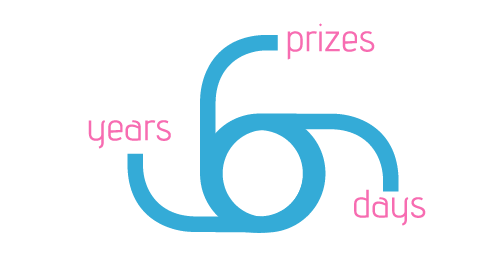 This month, ananyah.COM has been around for 6 whole years and to help celebrate this occasion, starting tomorrow, I'm giving away 6 prizes in 6 days to celebrate 6 years of blogging *throws confetti in the air* can you tell I'm in a good mood?!
Prizes up for grabs within the upcoming 6 days include:
1. A customized blog design by moi including 1 years free hosting & maintenance
2. A years Flickr Pro account worth worth $24.95
3. A £20 gift voucher from Just-Eat (UK Entries only sorry) courtesy of David Buttress
4. A signed CD by Kelis & a deluxe box set CD/DVD set of Corrine Bailey Rae live
5. 3 of my favourite French Movies on DVD
6. A handmade bath produce gift basket customized to your choice, thanks mom :*
How will it work?
At 12 midday GMT, a new question will be asked and will close at 12 midnight on the same day. In total there will be 6 questions and all answers will be found within my blog, so make use of pages, archives & the search bar! Some are easy, some are a little bit more tricky but it's all in good fun!
You can enter every days competition events, however, if you are a winner one day, you will not be able to win another day… making it fair to other participants!
How will I determine the winner & how do I enter?
Entries will be accepted by commenting on the individual blog post on the specific day. At 12 midnight each day, comments will be closed off. Once you comment your answer to the question, your comment number will automatically be your entry number, for example if you are first to comment, you'll be Number 1 and so on.
You can also enter using twitter by tweeting the answer along with the hashtag #ananyah666 within the 12 hour allocated time. Your twitter entry number will be determined by counting the number of blog comments that have been entered. For example, if there are 15 blog comments and 10 tweets… the tweeted entries will be number 16, 17, 18 and so on.
Once all entries have been gathered, I will be using Random.ORG to determine the winner by inputting the total amount of entries and randomly generating the winning number. The winning number will be captured and posted to show that I'm not favouring one entrant over another 😉
The winner on each day will then be posted on the entry after comments have been closed (so check for updates!) as well as on twitter, and will be emailed for contact details, so make sure you enter your correct email address if you enter by commenting. All prizes (excluding the Just-Eat voucher) are open to World-Wide entrants so no matter where you are, you'll get your prize 😀
The competition starts at 12 midday GMT on Saturday July 11th so keep a look out on Twitter, your RSS feeds & of course my blog for the first competition.
Good Luck & hopefully we're around for another 6 years! :party: